TRAFILATI
::
ENGLISH
::
PRODUCTS
::
SPECIAL SHAPES
::
T108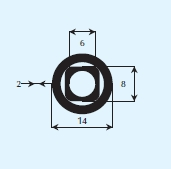 This is a hybrid one having a round outer shape made of brass and a squared inner shape made of copper
Our tubes are proposed in commercial length, approximately in a range between 4.500 mm 5.500 mm. However, they can be cut in a fixed length, e.g. bars of 5.000 mm, or proposed already cut to pieces in the required sizes, i.e. rings of 30 mm.
The packaging can be arranged on request in bundles protected by bubble wrap or in wooden crates.
To know the minimum producible quantity and to agree on the conditions of return please contact our offices.